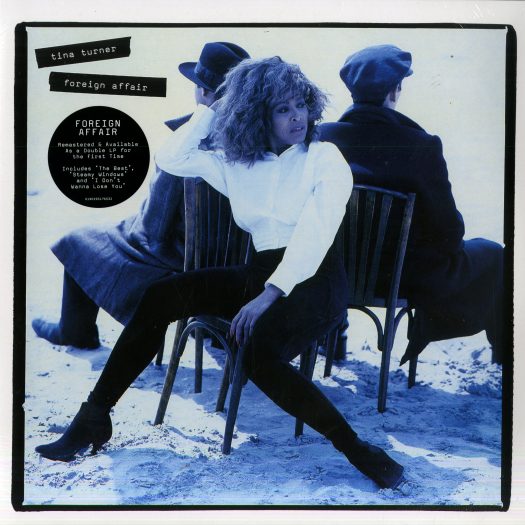 FOREIGN AFFAIR
Il 16 luglio Tina Turner ha pubblicato l'edizione deluxe di FOREIGN AFFAIR in vinile, CD e digitale. Senza dubbi uno dei più grandi album degli anni 80, Foreign Affair mette in mostra Tina Turner al suo meglio, ulteriormente confermando la sua posizione come Regina del Rockn Roll.
Celebrato in questo cofanetto edizione limitata, FOREIGN AFFAIR (DELUXE EDITION) include l'album originale completamente rimasterizzato per la prima volta nel CD1, il CD2 contiene la raccolta di B-side, remix e una demo inedita del classico di Tina Turner The Best. Nei CD3 e CD4 è contenuto il live show dell'artista a Barcellona nel 1990. In questa performance esaltante Tina esegue alcuni dei suoi brani più amati, inclusi What's Love Got To Do With It, Proud Mary, Private Dancer, e molti altri.
Questa performance elettrizzante è disponibile nel DVD, come anche i sei video musicali dei singoli dell'album restaurati in HD. Insieme a questa meravigliosa musica, l'edizione deluxe contiene un passaporto speciale e commemorativo con una serie di foto iconiche della Turner, come anche una cartolina in alta qualità con foto scattate da fotografi come Paul Cox. Inoltre, è incluso nel cofanetto un libretto con delle nuove note di copertina di Holly Knight, l'autore di The Best, Be Tender With Me Baby, You Can't Stop Me Loving.
Lista Brani su LP
1 Steamy Windows
2 The Best
3 You Know Who (Is Doing You Know What)
4 Undercover Agent for the Blues
5 Look Me in the Heart
6 Be Tender with Me Baby
7 You Can't Stop Me Loving You
8 Ask Me How I Feel
9 Falling Like Rain
10 I Don't Wanna Lose You
11 Not Enough Romance
12 Foreign Affair
Cod. Articolo: 0190295176532
49,90€Aggiungi al carrello